Time With BTS in KL
Sat, Jun 10
-
Sun, Jun 11
(12:00pm - 6:00pm)
UTC+8
Happy Lemon Lot 10, Kuala Lumpur, Malaysia

Description
Come and join us to celebrate the event!
BTS 10th Anniversary
Event Name: Time With BTS
Location: Happy Lemon Lot 10, Kuala Lumpur, Malaysia
Date: 10-11 June 2023
Time: 12:00pm – 6.00pm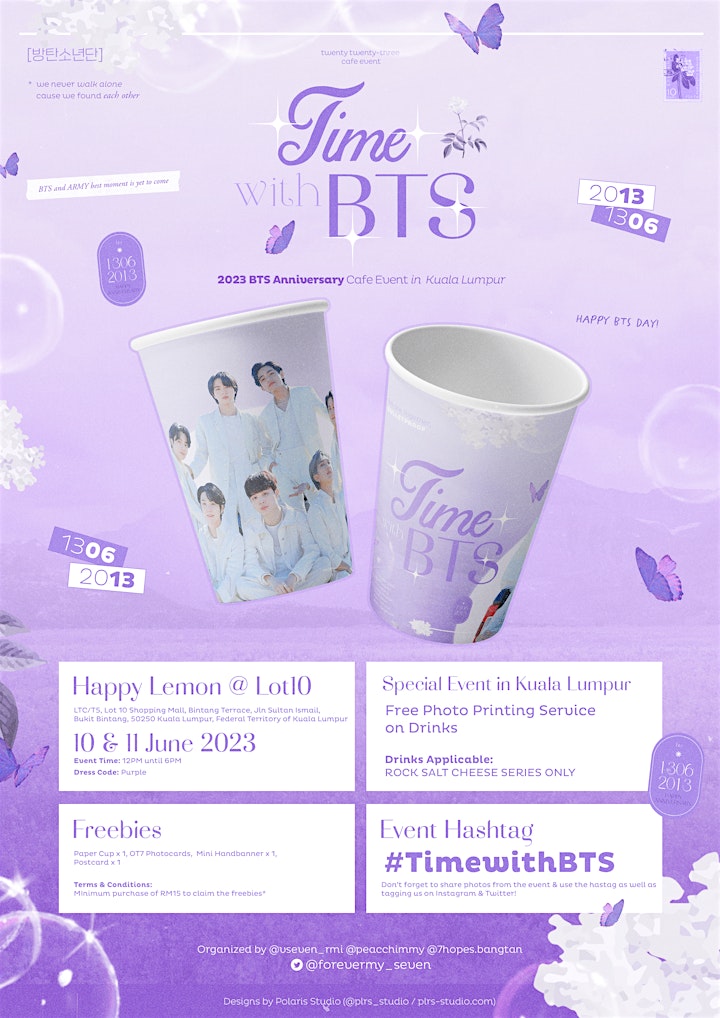 About Us
Follow us on Twitter @forevermy_seven for more information. #TimewithBTS
Organizer
Registration
• Each attendee is required to reserve only ONE(1) slot. Each slot lasts for 30 minutes. Allow an additional 5 minutes early arrival and 5 minutes late departure event venue.
• Each submission equals to ONE(1) ticket. If participating in the event with friends, everyone must register individually. One ticket per person.
• Freebies will be reserved until you pick them up within the specified time slot. Please be there on time. If failure to do so, your freebies will be given to others.
Walk-in
• Walk-in are allowed from 3pm-6pm. Please be aware that the time limit for each person to stay in the venue is 30 minutes to reduce crowding.
• Freebies are first come first served. If the freebies run out at the time, you are required to wait the reservation maker is absent from the event.
Event Rules & Regulations
1. After ordering food and drinks, take your order number and find a seat to avoid many people waiting in line. Pick up at the counter when it's your turn.
2. Don't litter. Take away your food and drink before you leave the venue. Don't leave it on the table, find a nearby trash can and throw it.
3. Don't touch the bts album and merch. If damaged, the fine is three times the official original price of the item. NOTE: Other decorative items can be touched. But if damaged, the fine is twice the original price of the item.
Event Calendar
Saturday, Jun 10 - Sunday, Jun 11