Voices 3.0 : It is Okay To Talk About Suicide; Unmasking the Stigma
Sat, Oct 15
(10:00am - 3:00pm)
UTC+8
Description
Talking About Suicide Save Lives. Learn How We Can Play a Role in Suicide Prevention
About this event
"My friend is considering suiciding. What should I do?"
"What do I say to someone who is talking about suicide?"
Relatable to the questions?
Find all the answers at The Voices 3.0 : It's OK to Talk About Suicide where we will be:
Learning through an interactive life-sized board game activity
Equip to spot the "warning signs"
Learn tips of what to do next
Be empowered to help someone you know or a love ones become a victim of suicide
Voices 3.0
The Voices 3.0 is happening on 15 October (Saturday), and you would be able to select one of three 90 minutes sessions (10am, 11:30am, 1:30pm).
What we know may save a life, so book your slot and join us to make a difference!
​Secure early rates by signing up before 30 Sep 2022.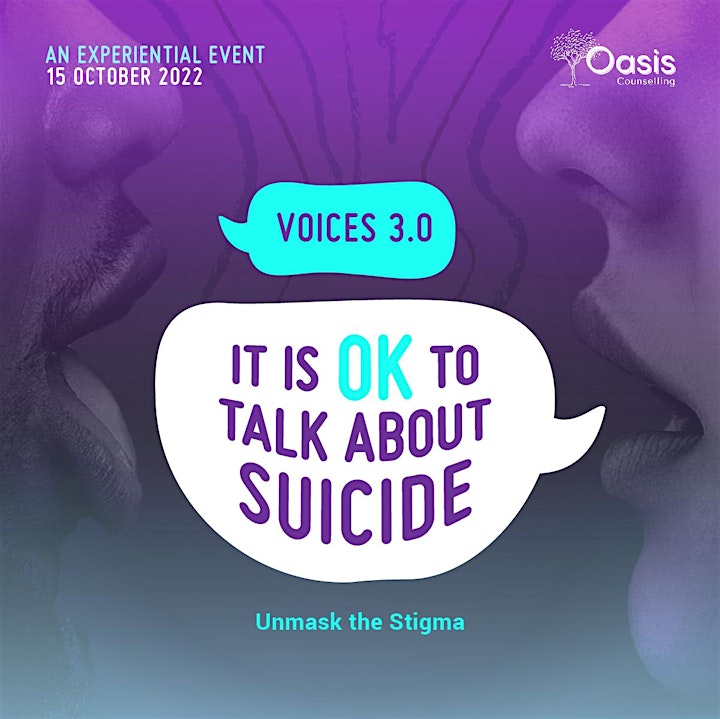 It's OK to Talk About Suicide!
The word "suicide" leaves people feeling uncomfortable or, as they put it, "mood killer". Although society and NGOs tries to break the stigma by normalise mental health-related talks especially after the pandemic, suicide cases remains high, and the stigma surrounding it.
The irony is, we indirectly contributed to that statistic because we chose not to speak up and about mental health. And that is where The Voices comes in. We're here to say:
It's okay to talk about mental health
It's okay to talk about suicide
Talking about suicide shouldn't and isn't hard
Suicide prevention steps starts with ME.
At The Voices 3.0, we want to make your learning as interactive and empowering as possible because we believe everyone can help – you just need to know how.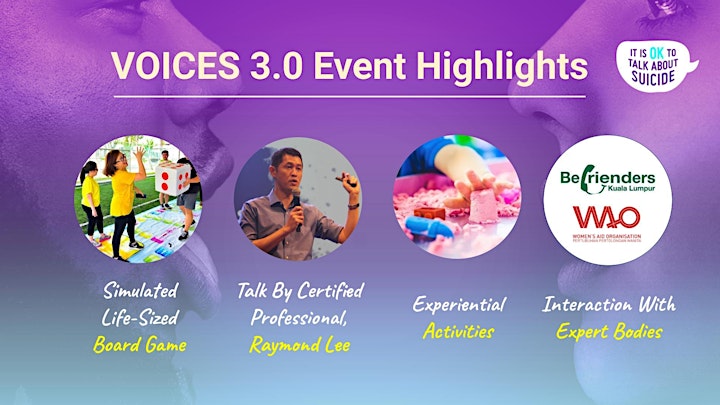 Sign Up For Voices 3.0
✨ Step 1: Select your session (only one) :
10.00am – 11.30am
11.30am – 1.00pm
1.30pm – 3.00pm
(If you opt to attend just for the suicide prevention talk only, please select the applicable sessions)
✨ Step 2: Place in your details
✨ Step 3: Pay for the tickets
Full Session Early Bird Rate ( Register by 30 Sep 2022 to enjoy the special rate)
Full Session Normal Rate
Suicide Prevention Talk Only (by Raymond Lee)
*All full sessions include Voices 3.0 Kit
ABOUT THE VOICES EVENT
Being in a society that mental health is a stigma where people may be afraid to get help when needed, The Voice event aims to raise mental health awareness in the community and empower them to understand how to help those in need.
ABOUT OASIS MINISTRY
Oasis Ministry is the proud organizer of The Voices 3.0.
Oasis offers holistic counselling by combining both spiritual & clinical for individuals, couples and families in a safe environment.
We also empower & educate community by providing training, talks and workshops on mental health.
View news about the previous The Voice Festival here:
The Star TV : Extend help for mental health illness to the urban poor, says Teresa Kok
The Voices Festival 2019 Highlight Video: THE VOICES FESTIVAL 2019 HIGHLIGHTS
FAQ
Is this event targeted at people who suffers from suicidal thoughts?
No.. .It's a general event to help public to empathize better with someone going through suicide. We are addressing the stigma that people has towards suicide topic like "just get over it.
This event is to get people understand why people suffer mental illness specifically suicide for Voices 3.0 through simulation activities.
Will the simulation activity trigger those already facing mental health challenges?
A simulation is very much use in overseas especially crisis training like nursing to train people respond to situation.
At any point of the event if it triggers any unwanted experience or feels uncomfortable participants can feel free to withdraw and join the other segment.
For ethicality purposes, we will require all our participants to provide their agreement for the Mental Health Simulation Consent (please click "check" upon checkout)
What is the minimum age to attend the event?
We are limiting the event to participants who are 12 years old and above.
Can I just sign up for the suicide prevention talk?
Yes! We have made this option available for those who may just want to attend the talk.
I can't make payment through paypal, how should I go around it?
Please select the "pay by invoices" payment option
Bank in to the below account: Maybank 112317219913 Yong Geok Ying (This is oasis' account)
Forward to payment proof to +60197508927 along with your registration details
Payment must be made before 30 Sep 2022 to enjoy early bird rates
Payment must be made before 10 Oct 2022
QR Code provided below for easy access